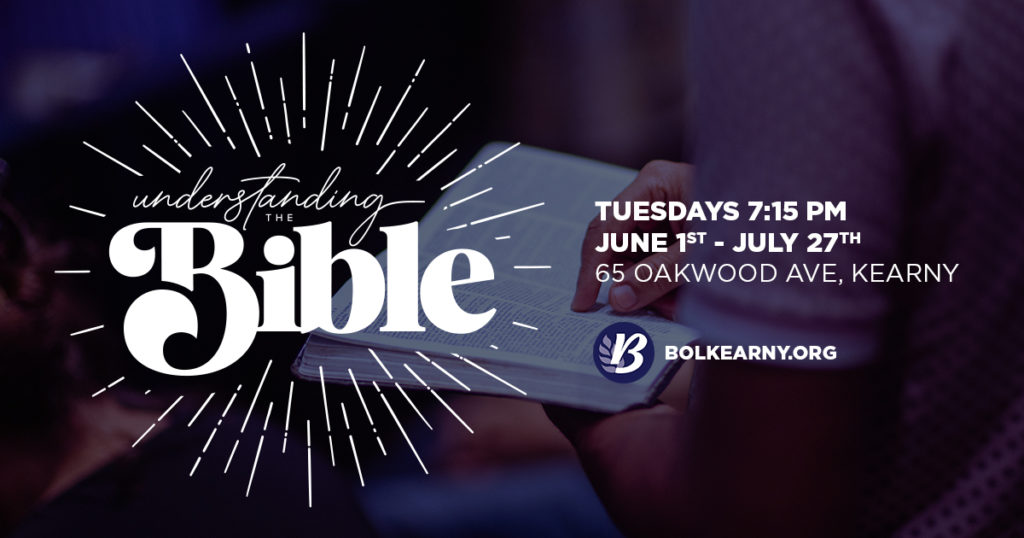 We invite you to join us in a journey about knowing, reading, understanding, and applying the Bible. This 9 week course will help you gain a better understanding of the Bible's major themes, how to interpret scripture, and how to walk in the truths that it conveys.
Classes are Tuesday nights at 7:15 PM at 65 Oakwood Avenue in Kearny, NJ. All are welcome!
Information and Questions
What are the COVID-19 restrictions?
Our chairs are spaced out so you can be distanced from non-household members while sitting with members of your own household. It is up to you whether you'd like to wear a mask or not.
Can children attend?
All children are welcome to attend! We will not be having a separate children's program, however. We do have a cry room for very young children and their parents.
Do I need any materials?
A binder, pens, and handouts will be provided for everyone. Bibles are also available.
Does the course cost anything?
The course is free of charge.
How long is each class?
We aim to start promptly at 7:15 and be finished by 8:30, with additional time for questions.
What if I miss a class?
Please plan to come to as many as you can, and don't worry if you miss one! We will do our best to upload audio and materials very quickly.
What church is offering this class?
Bread of Life Kearny (a church plant out of Bread of Life Fellowship in Wayne) is offering this class for our church and the entire community. We are a church that seeks to be rooted in the Bible as the only infallible authority for our lives. We meet together to worship Christ every Sunday at 1:30pm.
Do I need to be a Christian to attend?
All are welcome to attend! The course will be taught from a historic, evangelical perspective of scripture. That is, we believe the Bible is the infallible, written Word of God. You do not need to agree with us to attend. We hope that you learn something from the course and invite you to discuss further with us!